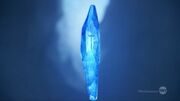 The Angrboda Crystal is a Norse artifact found at The Library.
History
[
]
It was trapped inside an enchanted chunk of ice by the Frost Giants, and was hidden in Finland until its owners needed its powers again.
Powers
[
]
Life Extension:  Beings who regularly absorb the energy of the Crystal become potentially immortal.
Immense Energy:  The Crystal can feed tens of Frost Giants with its magic before needing to recharge.
Glowing:  Whenever its name is said, the Angrboda Crystal will glow blue.
Symbiosis:  It can enter the chest of creatures that tap into its power. This will mean no harm or benefit to humans, as the Crystal will be expelled from their bodies a few days after the fusion.
Real World Counterpart
[
]
In Norse Mythology, Angrboða or Angrboda is the Jötunn (Frost Giant) with whom Loki  breeds to create Fenrir, Hel, and Jörmungandr , his children, who will all slay major gods during the last great battle, Ragnarök . She is therefore the mother of unspeakable, almost unlimited, evil.